The great pacific garbage dump
Recently I heard about this "great pacific garbage dump", a phenomenon that is happening in the North Pacific Gyre, an area of the North Pacific where the currents are such that things collect there and don't disperse. Apparently this "great pacific garbage dump" is twice the size of Texas.
When googling for the great pacific garbage dump, one sees some really scary pictures: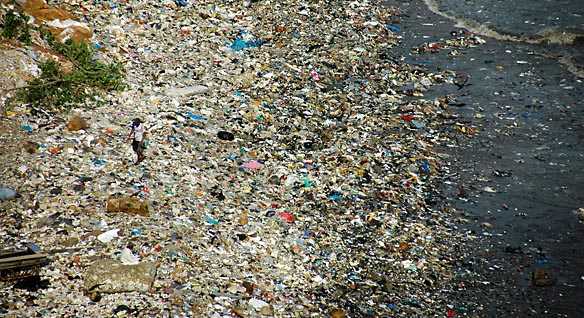 I thought, wow, that's crazy. So much trash in the ocean!
But then I looked at those pictures that in more detail and I realized that none of them were pictures of the ocean. Most of them were on the shore. One of them even showed someone walking through the trash! (Wow, the trash here in the ocean must be so dense that someone can WALK ON IT.)
Something was pretty fishy, so I did some more looking around. I discovered that the trash in the north pacific gyre doesn't look anything like the above pictures.
Via:
It's not packed in as tight as that – it's more like a dense collection of tiny floating pieces of plastic, most of which are not on the surface. A big container ship or naval vessel going through there would probably not notice much out of the ordinary – after all, there is some degree of plastic trash floating on the surface all over the world.
This is what the "trash dump" really looks like:
And this is what the contents of a trawl through that area of the ocean looks like:
Now I'm not about to deny that this might be a problem for the environment. There is plastic there, maybe animals are getting killed, and its bad for the ecosystem of the Pacific. Maybe. But what is with the bald-faced deception on the vast majority of the web pages about the "Great Pacific Garbage Dump"?
And then people wonder why environmentalists aren't taken seriously? Maybe if you STOP MAKING SHIT UP, people will start to listen to you!